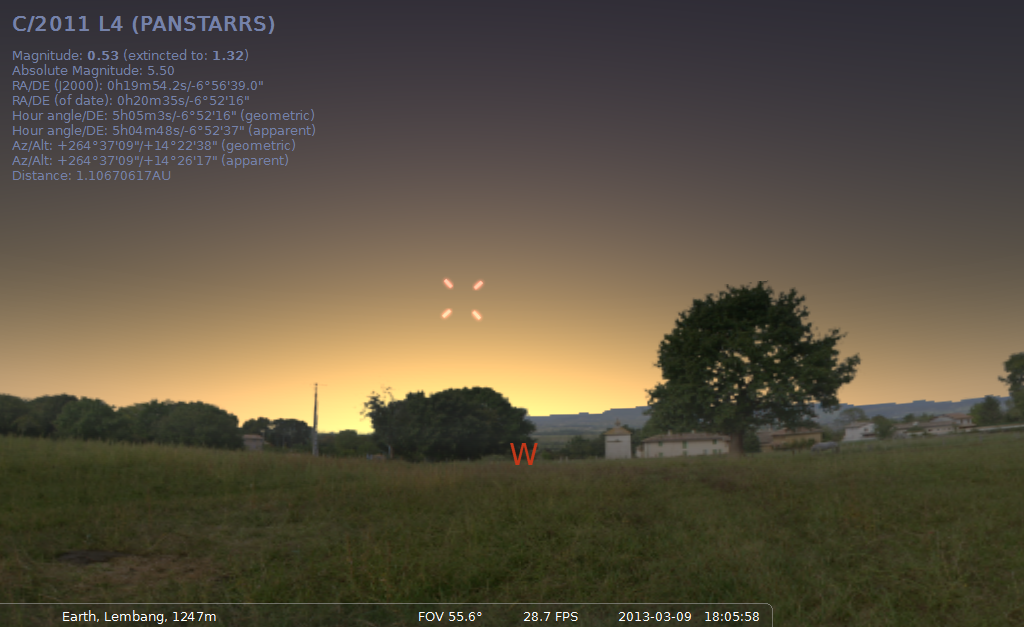 Langsung saja, saya pingin hunting foto comet PanSTARRS ini. Dalam list astrofotografi saya, belum pernah saya mendapat foto comet. Saat ini sepertinya kesempatan yang bagus untuk mendapatkan comet karena comet sangat jarang muncul.
Sebelum mencari tempat hunting, seperti biasa, hal yang harus dilakukan dalam perencanaan pengamatan adalah melihat peta posisi target, lokasi pengamatan, dan kecerlangan objek. Dari ketiga parameter ini nanti kita cari tahu kira-kira dengan resource yang ada, kita bisa melakukan pengamatan atau tidak.
Dengan melihat parameter komet yang ada dan ketersediaan peralatan, komet ini possible untuk diamati dan dipotret terlepas dari faktor mendung yang mungkin saja terjadi saat pengamatan dimana hal ini merupakan faktor diluar batas yang bisa kita upayakan. Walapun faktor gangguan mendung bisa kita minimalisir dengan mencari tempat pengamatan yang cenderung selalu cerah.
Dalam plan ini, saya tidak hanya berencana mendapat only-comet-alone in the wide single frame, but i want to capture comet with fascinating object as foreground. Jadi, yang kepikiran masih di Bosscha. Saya belum cek kira-kira spot mana yang bisa leluasa melihat ke arah komet ini. Ada beberapa titik seperti di bekas menara rukyat, menara radio dengan foreground kupel, bukit panjebolan, atau di tempat dimana saya motret polusi cahaya bandung. Tapi bandung akhir-akhir ini selalu mendung dan hujan tiap sore. wah… to be continued..