FIRST X-FLARE OF THE NEW SOLAR CYCLE: Sunspot 1158 has unleashed the strongest solar flare in more than four years. The eruption, which peaked at 0156 UT on Feb. 15th, registered X2 on the Richter scale of solar flares. NASA's Solar Dynamics Observatory recorded an intense flash of extreme ultraviolet radiation, circled below: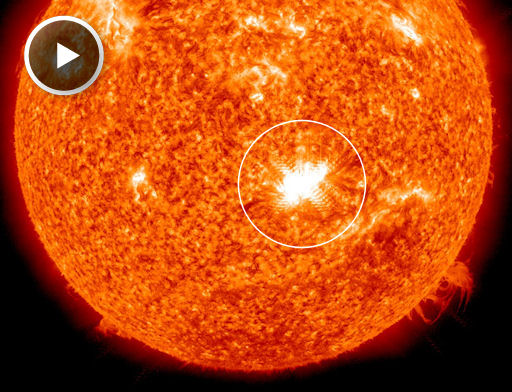 movie formats:
5 MB gif
,
1.3 MB iPad
,
0.6 MB iPhone
X-flares are the strongest type of solar flare, and this is the first such eruption of new Solar Cycle 24. In addition to flashing Earth with UV radiation, the explosion also hurled a coronal mass ejection (CME) in our direction. The expanding cloud may be seen in this movie from NASA's STEREO-B spacecraft. Geomagnetic storms are possible when the CME arrives 36 to 48 hours hence. Stay tuned for updates.(spaceweather.com)
Berikut hasil pengamatan radio dengan menggunakan Teleskop Radio JOVE, Observatorium Bosscha – ITB
Chart Pengamatan Radio JOVE 20,1 MHz 15 Februari 2011 jam 11:35:08 – 11:37:08 WIB
Pada sekitar  04:36 UT atau jam 11:36 WIB tercatat ada semburan yang sangat besar.
Perhatikan perbandingannya dengan level normal sebelum dan sesudahnya. Peningkatannya sekitar 7 kali lipat
Kondisi langit berawan rata dan cukup tebal saat pengamatan. Garis merah vertikal adalah interferensi lokal.
Selain data diatas, sempat pula direkam suara dari semburan radio ini. Hasil ini merupakan milestone atau tonggak sejarah yang besar dalam pengembangan teleskop Radio JOVE di Observatorium Bosscha. Dengan hasil ini, saya yakin Observatorium Bosscha bisa terlibat aktif di radio (frekuensi rendah) untuk "menyambut" siklus aktifitas matahari ke-24 dengan puncak aktifitas matahari sekitar 2012-2014 dalam bentuk solar patrol.
Ada beberapa keberuntungan di balik data diatas:
Flare muncul saat matahari masuk dalam range deteksi antena (beam).
Kejadian muncul saat pengamat konsentrasi pada chart pengamatan.
Kejadian muncul saat audio speaker sedang aktif..
Kejadian muncul saat software audio sedang aktif merekam.
Kejadian muncul beberapa saat dilakukan kalibrasi instrument.
Sebagai catatan, ini merupakan pengamatan dan kalibrasi pertama sejak Sound Card yang bertugas sebagai Analog-to-Digital Converter (ADC) diganti dengan yang baru karena rusak.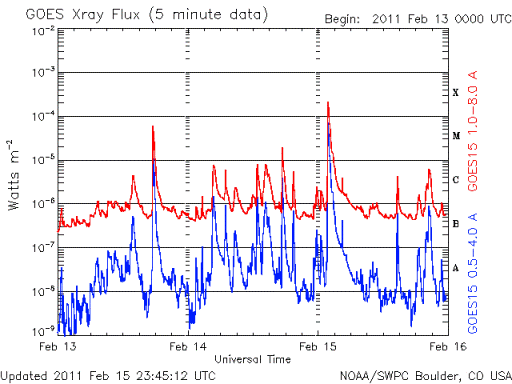 Hasil Dari X-Ray Satelit GOES